The NextLOAD Story:
A Premium Load Board from America's Favorite Factor
When Apex Capital, America's favorite factor, launched NextLOAD in 2014, the goal was clear: To create a premium load board that would give carriers a FREE, user-friendly, comprehensive place to search for great, money-making loads. Also, with NextLOAD we wanted to provide brokers and shippers with a site that easily accommodates their loads, therefore connecting them to reliable carriers.
NextLOAD continues to grow and improve with ideas directly from our users. We've implemented a variety of search options – from weight and distance all the way to keywords and company type – and we've partnered with many TMS providers such as McLeod PowerBroker, Aljex (DesCartes), Ascend, Transport Pro, Strategy, and Navigator with several others in progress. Carriers can find loads 24/7 and brokers can post loads automatically or manually.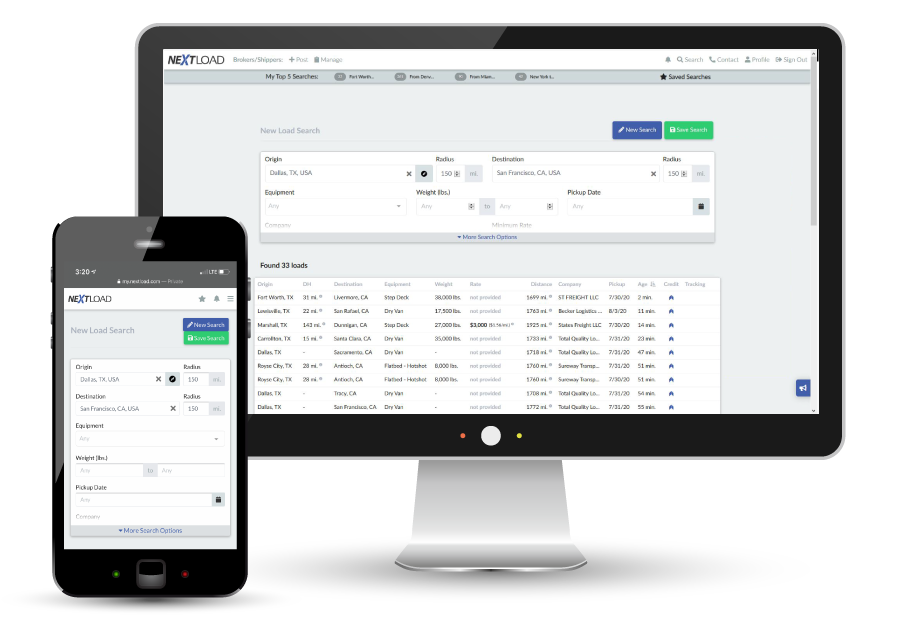 We encourage you to create your FREE account that features mobile optimization, the convenience of smart phone, tablet, and desktop computer accessibility, and the ease of unlimited accounts for company owners, dispatchers, and drivers.
Why make it completely FREE?
That's because we know that as a carrier or broker, your budget is tight. But that shouldn't keep you from growing your business. We knew you needed a faster, easier, and totally FREE load board.
Why do we do all of this?
Because we want to offer a premium load board for everyone that is completely FREE. At Apex, we always believe that leveling the playing field gives all transportation companies the chance to succeed. NextLOAD is here to be part of that success.